Park Gallery
PCM presents a selection of images showcasing the wonderful Park Campus.

Last update: Aug 2022


PCM volunteers have taken thousands of photographs and hours of video footage of Park Campus - concentrating on its time as a university site, but also continuing through the demolition of buildings and new house construction.

We have been pleased to receive both old and more modern pictures and papers to scan from various members of our Facebook group, and also from the university, which also granted us permission to photograph at Park, and provided special access.

Do you have any photos, paperwork or cine / video footage of, or relating to, Park? Do have a look at what we already have - listed on our download pages - and if you can help fill a gap, please get in touch!
We post 12 pictures weekly in our forum as Friday Photos, and have uploaded other albums too. For example, Through Eric's Lens, a five-part series of 12 archive pictures per week, remastered by us, from our Eric Ogilvie Collection. We used colour slides taken by, or for, the late former Principal and Director, and very kindly given to us by Eric's son, Richard.

And now, let us welcome you to our gallery. We hope it provides a flavour of the wonderful and much-loved 80-acre site as it was, and how a mix of excellent resources and a beautiful place, made Park such a good place to work and study. It really was special.
Far left: Main Building / Holdenby built in 1971-72, pictured in 1986 or '87

Left: Dr. Eric Ogilvie, Principal, Northampton College of Education (NCE) 1971-1975 and Director, Nene College 1975-1989, likely circa early 1980s

Right: Eric at work in his office in 1986
Far left: Dr. S. Martin Gaskell, Director, Nene College 1989-1999 and Rector, University College Northampton (UCN) 1999-2002, pictured around 1999

Centre left: The Cottesbrooke building, 2018. Nb. Many teaching buildings were named after local villages

Left: Looking across to Naseby, 2018
Right: From Cottesbrooke with Fawsley right and the Restaurant in the background, 2018

Centre right: Park in the sun, 2018

Far right: Lecture in Cottesbrooke, circa mid-1990s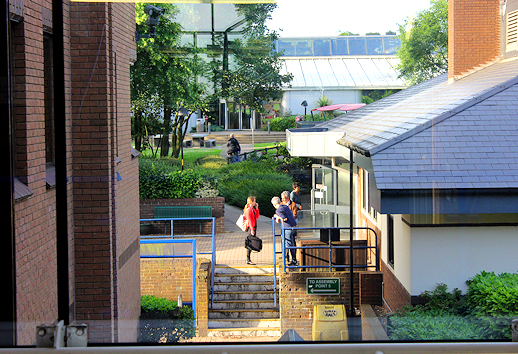 Far left: Beautiful Park, 2018

Left: Student bedroom publicity photo circa 1995.

Right: Mrs Ann Tate, Rector, UCN 2002-2005 and Vice Chancellor, University of Northampton 2005-2010, circa 2003
Above: The Restaurant - an award winning design (2018) and wild rabbits - a familiar sight at Park (2019 and 2018)

Right: The 1984 prospectus with the long-serving 'N' Nene College corporate logo

Far right: Pytchley, housing the convenience store, bank, the former bookshop and Finance, 2018
Far left: HLT1 (formerly the Large Lecture Theatre) in Holdenby, 2018

Left: One of the prospectuses from 2000, featuring a photo of the Senate

Right: Tim Johnson and Jeremy Hatful celebrate their graduation success in 1993
Above l to r: Delapre, for many years home of drama teaching (2018), HRH The Duke of Gloucester is introduced by tutor Marcia Wragg to students, Dietrich Nanton and Susan Ring, in the Dance Studio (1986) and the college / university crest on the front of Senate (2017)

Right: The beautiful Dance Studio, an original 1971/72 facility, photographed in 2018

Far right: C126 - one of two showcase lecture theatres in Cottesbrooke, 2018
Above l to r: An IT suite in Cottesbrooke - one of many across the campus (2018), part of the large and characterful Library (circa 1992) and a magnificant display of virginia creeper on the Sports Hall (2017)

Far Left: Another part of the Library, 2018

Left: Cottesbrooke, 2015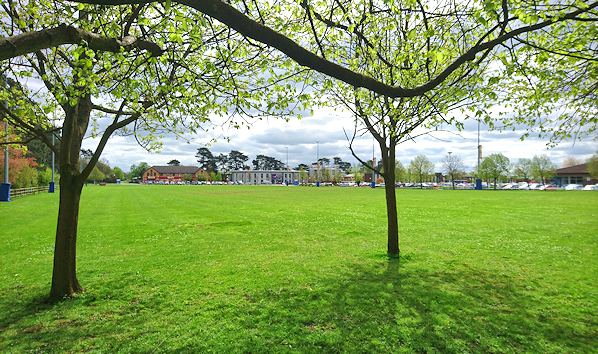 Above: The opening of Park Campus (10th Nov 1972) with Dr. Ogilvie (in gown) and Margaret Thatcher MP (Secretary of State for Education & Science), the law Moot Room in Naseby and the Front Field (both 2018)

Left: The Leather Conservation Centre.

Right: The Sports Hall, 2018

Far right: Back Field, 2018


Left: A terrific shot of Holdenby / Main Building and the Students' Union (right) illuminated for a promotional picture, circa mid-late 1990s
Right: A promotional photo of the dance floor in the purpose-built students' Union Venue nightclub, circa 1993

Far right: Fawsley at night, 2018
Left: Beautiful Park, Sept 2018

Far right: The opening of the National Leathersellers' Centre in 1978. His Worship The Mayor of Northampton, David Walmsley, and Dr. Eric Ogilvie, Director of Nene College lead the group

Below l to r: HLT3 and HLT2 lecture theatres in Holdenby (2018) and a popular sculpture, The Guardians II by Nicola Godden (2017)
Left: Central Park - ground floor of the Students' Union, early 1990s
Above: Outside the SU in 1993
Right: Path to Sunley Conference Centre, 2018. Formerly Blackwood Hodge, this was a purpose-built residential management facility

Far right: Two of three quads of ensuite halls. Halls were named after important people. Shown here: Spencer Perceval and Simon Senlis, 2008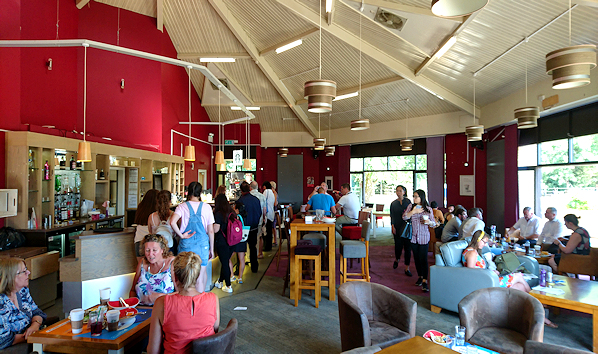 Above l to r: Spencer Perceval Hall, 2020, a Leather Centre lecture room, 2018, The Pavilion ("Pav"), a popular bar and eatery run by the Students' Union, 2018
Below l to r: 2018 photos of the Holdenby staircase and skylight, in use 1972-2018, main entrance road and a snowy Pav
Far left: The 1996 Nene College prospectus, showing a pleasant scene at the heart of the campus (photo is pre-1993)

Left: More Park bunnies! (photographed in 2018)
Below l to r: Lamport's Paramedic Science suite with ambulance (!) and dental chair and a study bedroom for nursing / clinical skills in Kelmarsh (all 2018)
Far left: Beautiful original varnished pine wood behind Grendon, May 2018

Left: A conker-strewn path leading nicely down to the Cottesbroke building - home to the Northampton Business School (NBS), 2017

Right: One of the great figures of Park, Les Skelton, Chief Administrative Officer of the college from 1971-1987, likely circa mid-1980s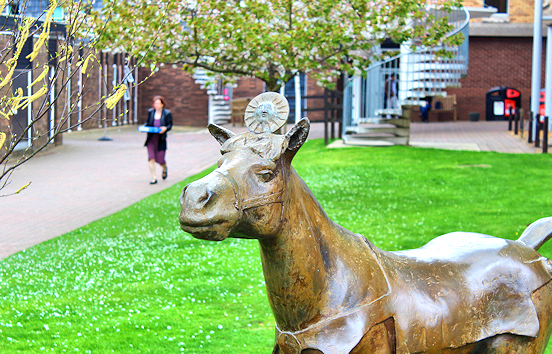 Above l to r: View from Senate, showing the student car park (2018), a sporting photo from 1978, and the Aviary - a popular feature on campus (2018)

Left: Arguably the most popular statue on campus, The Sun Horse, by John William Mills, pictured in 2018

Right: Sporting photo posed in front of Main Building, 1981
Above l to r: Back Field, sitting by Grendon and Pyracantha Firethorn with Sulgrave behind, all 2018

Right: Lapin and Holdenby, 2002

Centre right: Library detail, 2018

Far right: Sunley Conference Centre conservatory, 2018
Above l to r: Four students photographed in front of the Restaurant (circa 2002), the centre of campus (2018) and Gallagher Sports Field(s), incorporated into Park, and still owned by the university (2020)

Far left: "Greenfields", the residence of the Vice Chancellor (and Director since 1993), located across the public road, and considered part of the campus, 2018. Now a private house

Left: Infill detail in the library, 2018
Far Left: Greenhouses used to grow plants for graduation and for outreach work with disabled people, 2018

Left: Outside Margaret Bondfield Hall circa 1992

Right: 2000/1 SU nightclub flyer
Far left: Student Tour Guides ready to escort visitors around the site, ca. 1996

Centre left: 2018 picture looking from the Pavilion bar

Left: The first prospectus for Park, 1972
Above: The Leathersellers Centre / Institute for Creative Leather Technologies (ICLT) featured a working tannery and laboratories (pictures from 2018)

Right: The ICLT electron microscope, 2018

Far right: Panoramic view of The Hub, Cottesbrooke, 2016

Below l to r: The Servery in the Restaurant and Back Field (both 2018) and Rehearsals for a BEd production of Grease in the Large Lecture Theatre (later HLT1) in 1988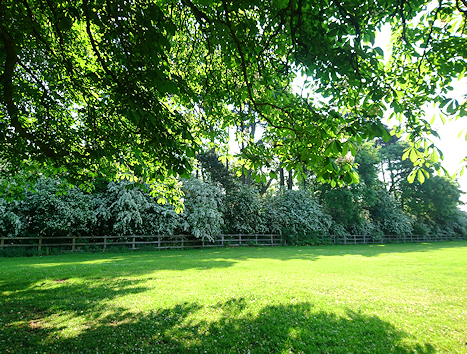 Left: A twin room in Queen Eleanor Hall, 1994

Right: The Reception Building, constructed just six years before the campus was sold (2017 picture)

Far right: Lecture theatre room in Kelmarsh, 2018

Below l to r: East Halls in the evening sunshine & a student warden room (both 2002) and The Sun Horse (2017)
Left: Much of the campus from the air, 2008

Right: Honey (also known as "Sophie") a local kitty who was a frequent visitor to campus over some years, 2018

Far right: The Journey by Charlotte Mayer, 2002
Above: r to l: The Sports Hall predominates in this drone view (2018), One of two three entrances to the Library foyer (2016) and a psychology observation room with trick mirro (2018). This was one of a number of special facilities in Fawsley, including a sensory deprivation room. There was another observation room in Naseby, used for police training. A custody suite and cell were also built
Above: l to r: Winter fruit on site (2021) and panoramic shot inside the Students' Union (2016)

Left: The Weather Station, 2018

Right: Early morning on the top floor of Cottesbrooke, 2018

Far right: Lilac outside Top Lodge, the oldest building on campus (2018)
Above l to r: A view from Cottesbrooke, the Secret Garden and reflection in Restaurant front glass (all 2018)

Left: A regular occurrence for students in halls! A false fire alarm. A 1993 fire brigade call out to Margaret Bondfield is shown here

Right: The staff gym in Everdon, 2018 Below l to r: Top Lodge in the gloaming (2018) and two William Carey Hall views (2021)
Right: Ann Tate (Vice Chancellor 2002-2010), Prof. Nick Petford (Vice Chancellor 2010-2022) and Dr. Eric Ogilvie (Principal / Director 1971-1989) at an event to celebrate 10 years of university status, in the Restaurant, 2015

Prof. Petford was the driving force behind the campus sale and move from Park to a new site, Waterside. In our experience of talking to several hundred people - former and current staff & students, local residents and other interested parties - it was a controversial and unpopular move. A beautiful, modern, fit for purpose, much-loved campus was destroyed. Re: the sale and move, the question so often asked is 'Why?' Other talking points include the £330 million Waterside cost - with debt planned to take many decades to be repaid - and the loss / downgrading of many facilities in the move.
PCM Park Gallery credits - Park Campus Memories images except:
Photos of Dr. Gaskell, Ann Tate, student in lecture theatre, students posed in bedroom, prospectus covers, students in library, Holdenby at night, Venue and Central Park, students outside Margaret Bondfield, SU and Restaurant, 2008 aerial shot and uni status celebration - all University of Northampton
SU flyer - University of Northampton Students' Union
Graduates picture provided by Harvey Jackson
Library entrance photo by Krzysztof Masloch
Basketball ladies by Jonathan Grose
Rugby gents by Ann Jenkins
Panoramic 360 shots by Kelly Cooper Photography
Grease rehearsal by Lori Keet
Our grateful thanks to all those who have allowed us to use their images
Back to the top of this page
or return to
PCM Homepage
.