Downloads 3 - The Park Estate
Archive plans, maps and diagrams of Park Campus buildings

These free downloads are offered for study and personal non-profit use.
Site maps
Map of Park Campus, 2008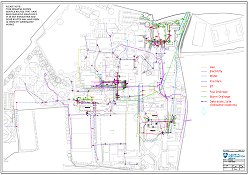 Subsite services plan, 2011
Map of Park Campus, 2018
AWAITING DIGITISATION:
A significant number of plans (A0 and larger) of various Park buildings - rescued by PCM in the last days of the campus. Might you be able to offer advice on how best to scan these documents?
Help PCM fill the gaps - and bring joy to others too! Your copy of a marketing postcard or Student Union newspaper might be the only one remaining. Remember, if it isn't listed here, we haven't got it! Please get in touch with our friendly team! We accept scans* but will gladly do them for you using our equipment. Don't forget to spread the word about PCM and our Facebook group!

* Our preference is 600dpi or higher in TIFF or JPEG form via Dropbox or OneDrive
The copyright in these files is held by the University of Northampton, GSS and e-on.
People who have kindly contributed material to this page:
Matthew Waite,
University of Northampton, Campus Services
Background image:
Infrastructure Services (now Campus Services) Map Room - formerly the Large Lecture Theatre (later HLT1) projection room, in Holdenby / Main Building.
PCM Homepage
-
Back to Download Central
.